What is LASIK
LASIK Procedure
The complete LASIK experience only takes approximately two-hours on the day of surgery. Patients are given Valium and numbing eye drops upon arrival. Patients are fully awake during the procedure.
STEP 1: CREATING YOUR EYE MAP
The first step is to create a 3-D map of the imperfections of your eye using wavefront-guided eye-mapping technology. This intricate map provides an in-depth representation of your unique vision needs using highly precise measurements.
STEP 2: PREPARING YOUR EYE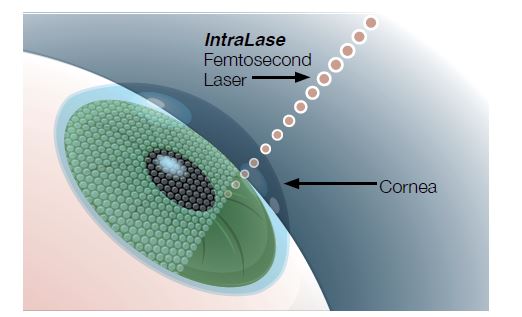 The procedure uses an ultra-fast laser to create a thin, customized flap that is gently folded back to prepare your cornea for treatment.
STEP 3: DELIVERING YOUR PERSONALIZED TREATMENT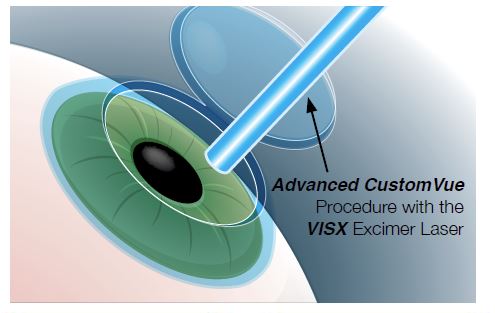 An ultra-precise laser is used to gently reshape your cornea to the desired curvature, based on the digital information from your wavefront-guided eye map.
(Use images of 1-4 from iLASIK infograph)
After the LASIK Procedure
The entire procedure is often completed within five or six minutes.

Typically, patients will have blurry vision immediately after the procedure. Functional vision is restored within 24 hours, with most patients returning to work within a day.
Maximum vision improvement comes within three to four weeks after surgery.
Nearsightedness & Farsightedness (Myopia & Hyperopia)
LASIK is an outpatient procedure used to correct both
Myopia
(nearsightedness) and
Hyperopia
(farsightedness). The only difference in the approach to these two conditions is in the way the laser is used to reshape the cornea.

When correcting farsightedness, tissue is removed around the edges of the cornea, increasing the curvature of the eye.


When correcting nearsightedness, the goal is to flatten the cornea.
Astigmatism
An Astigmatism
describes a cornea with an irregular shape, like a football, which causes vision to be distorted.
LASIK can be highly effective even for patients who have an Astigmatism. Often, having an Astigmatism makes wearing contact lenses difficult.
With the LASIK procedure, the laser is used to correct your Astigmatism even as it corrects nearsightedness or farsightedness.