A Clear Path to the Skies: Chopper Vision with LASIK in Durham, NC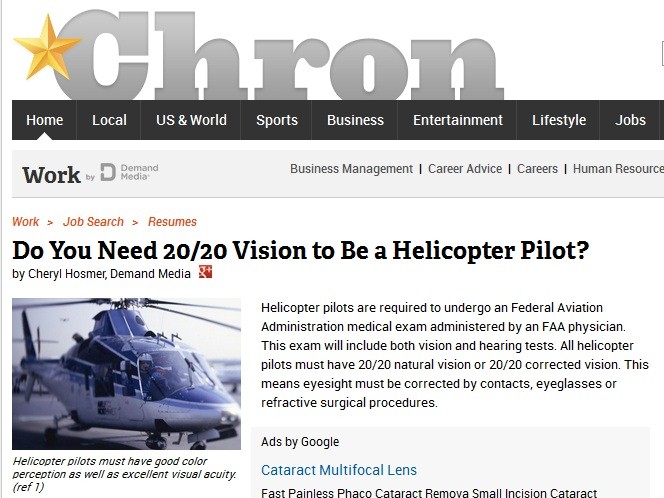 Chopper Vision with LASIK in Durham, NC
You could be at the airport one day, see a helicopter fly past you, and wonder how it feels to take to the skies. In an article for the business portal Chron.com, writer Cheryl Hosmer discusses one particular element you must take into account:
Helicopter pilots are required to undergo an Federal Aviation Administration medical exam administered by an FAA physician. This exam will include both vision and hearing tests. All helicopter pilots must have 20/20 natural vision or 20/20 corrected vision. This means eyesight must be corrected by contacts, eyeglasses or refractive surgical procedures.
Some residents of Durham, North Carolina, will have caught the bug to fly. The city is host to an engine facility for General Electric Aviation, and at least three companies in the area offer flight training or air charter services. If you want razor-sharp vision to aid your capacity as a pilot, consider getting LASIK through Durham, NC practices like the North Carolina Eye, Ear, Nose & Throat.
Disqualifying Conditions
The shape of your cornea can give clues to which eye conditions will threaten your qualifications; the key is to attain 20/20 vision or better. Nearsightedness or farsightedness is key to managing affairs in the cockpit and retaining situational awareness in the sky. FAA regulations prohibit using contact lenses or glasses to correct monocular vision.
Lets Test Your Viability for LASIK
A LASIK operation will require a number of tests to check your eyes' viability for the procedure; you will also have to share realistic goals for undergoing it. If you pass the testing, your eye surgeon can recommend you to take some time off work to prepare for the appointment.
What Is LASIK?
The procedure involves opening a flap in the cornea and using laser pulses to correct the cornea's shape, which may increase the clarity of vision. You will be administered valium to help relax you for the operation. The recovery period will require being accompanied home by a loved one, who will aid you in administering eye drops. Be sure to avoid outdoor activities whenever possible.
Your FAA Clearance
The FAA rules that pilots who underwent refractive procedures are allowed for flight operations after six months' stabilization. Your eye surgeon should fill up FAA Form 8500-7, which details the recovery period and they must certify that the procedure enabled you to have full visual acuity without complications. An aviation medical examiner will use it to check on your vision and hearing after a six-month adaptation period, the success of which will clear you for flight operations.
Clear sight is everything to a pilot. Lasik surgery in Durham, NC is a step in the right direction. See more information on Cary Eye Disease, Chapel Hill LASIK Surgery, Cary Eye Exam, and for eyewear, visit Roxboro Optical Center!
(Source: Do You Need 20/20 Vision to Be a Helicopter Pilot?, Chron.com)