How To Choose a LASIK Surgeon - Cary, Chapel Hill, Durham, Roxboro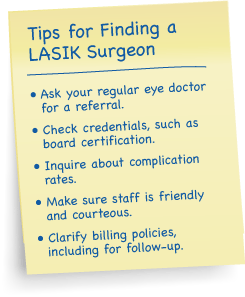 Utilize Online Resources for LASIK Surgeon Recommendations
When looking for a recommendation for anything from LASIK surgery to a restaurant, I like to start with Yelp. The two search fields at the top of the page, and the left-hand column, provide you with a lot of useful information. In the "Search for" field, type in "LASIK surgery," and in "Near" field, type in the city, and Yelp will return a Google-like list of matches, with information on LASIK surgery centers in that city, including reviews by patients.
Another tool always comes to mind when researching for quality and comparisons of similar products, Consumer Reports . What's different here is that they give you a breakdown of factors for you to consider when choosing a LASIK surgeon. Also in the left-hand column there's a link ("What consumers say") to a summary of many reviews by patients about their LASIK surgery experiences, not about particular surgeons, which may be generally helpful for someone considering having LASIK surgery. "Will you be satisfied?" and "Will your vision improve?" may also be useful links.
Consumer Reports and All About Vision ( offer essential details on choosing a LASIK surgeon (including the "Tips" chart). Some of the "top hits" seem to be (1) knowing someone who has had a satisfying outcome who can share details with you; (2) your willingness or ability to travel if the surgeon you want isn't local; (3) the expected outcome for your specific vision condition, based on side-effects risks versus probability of desired outcome; (4) confidence in your decision of a surgeon; (5) price.
Technical Details About the LASIK Surgeon and Facilities
There are some technical things that stand out as well, especially whether the surgeon's equipment is state-of-the-art technology. For example, like buying a computer, it's always recommended that you purchase the most advanced technology you can afford. It's not a perfect analogy, but with laser vision-correction equipment it's probably best to go with IntraLase (instead of microkeratome) for the first step in the procedure. And wavefront-guided LASIK, for the laser vision-correction step.
Wavefront-guided LASIK, rather than applying a simple correction of focusing power to the cornea (as in traditional LASIK), the surgeon applies a spatially varying correction, guiding the computer-controlled excimer laser with measurements from a wavefront sensor. The goal is to achieve a more optically perfect eye, though the final result still depends on the physician's success at predicting changes that occur during healing and other factors that may have to do with the regularity/irregularity of the cornea and the axis of any residual astigmatism. Of course, this is something the prospective patient should consult with the surgeon about during the evaluation.
And here are just a few more tips for finding a LASIK surgeon:
Qualifications. Licensing, board certification, American College of Surgeons membership.
Advertisements. Some ads are more informative than others. Some tout extremely good pricing. But while this can be a starting point, an ad or a procedure price should not be your only criterion when choosing a doctor.
Referrals. Ask for a referral from your regular eye care practitioner. Tell him or her that you want the LASIK surgeon in your area (or where you are willing to travel) with the best reputation in the profession. Also, reputable LASIK surgeons themselves can be great sources of referrals. If you know of a refractive surgeon who is well respected in another state, call his or her office and ask for recommendations regarding good surgeons in your area.
Last but not least you can visit the American Academy of Ophthalmology's website at www.aao.org, where you can use the "Find an Eye MD" feature. Be sure to specify "refractive surgery" under "specialty." Also the American Society of Cataract and Refractive Surgery maintains an online membership list and "Find a Surgeon" feature.