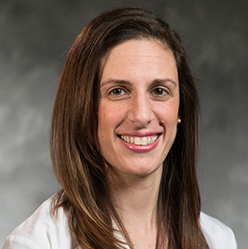 Sara Young, AuD, CCC-A
Audiology & Complete Hearing Aid Services
Location(s): North Durham, Chapel Hill
Sara Young, Au.D., CCC-A received her B.S. in Communicative Disorders & Sciences from State University of New York at Geneseo and her Doctorate in Audiology from Central Michigan University. She completed her Fourth Year Fellowship at Hearing Evaluation Services in Buffalo, New York.
Dr. Young worked as a clinical Audiologist at Rochester Hearing and Speech Center in Rochester, NY before relocating with her husband to North Carolina. She is licensed by the North Carolina Board of Examiners for Speech and Language Pathologists and Audiologists and is certified by the American Speech Language and Hearing Association.
Dr. Young welcomes all patients, but her primary interests are balance disorders, auditory brainstem response testing, and hearing aids in adult patients. In her spare time, Dr. Young enjoys cooking, running, and traveling.