---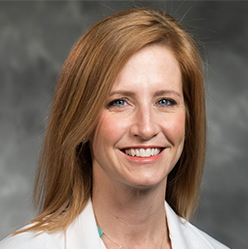 Sara F. Grace, M.D.
Pediatric Ophthalmology
Location(s): N. Durham, Cary
Sara F. Grace, M.D. is a board-certified ophthalmologist and specialist in Pediatric Ophthalmology and Pediatric and Adult Strabismus (ocular misalignment). She graduated with honors from the University of Missouri and received her medical degree from the University of Oklahoma College of Medicine. After a year internship at Presbyterian St. Luke's hospital in Denver, Colorado, Dr. Grace completed her ophthalmology residency at the prestigious Bascom Palmer Eye Institute in Miami, which is ranked as the #1 ophthalmology program in the United States by U.S. News and World Report. Dr. Grace continued at Bascom Palmer Eye Institute for her Pediatric Ophthalmology fellowship. She was previously on faculty at the University of North Carolina at Chapel Hill prior to joining North Carolina Eye, Ear, Nose & Throat.
She is passionate about the field of pediatric ophthalmology and focuses on making an eye exam or procedure a positive experience for the child and their family. Dr. Grace has found that when a child is engaged and having fun during a clinic visit, they become comfortable with the exam and the physician can get the best information about the child's diagnosis. Dr. Grace is also committed to ensuring that the family understands the eye disorder and reasoning behind treatment since their participation in the treatment plan is essential to improving the child's vision.
Dr. Grace is a fellow of the American Academy of Ophthalmology, a member of the American Association for Pediatric Ophthalmology and Strabismus, a member of the Alpha Omega Alpha Honor Medical Society and the Gold Humanism Honor Society.
Dr. Grace specializes in the medical and surgical management of pediatric eye disorders and adult/child strabismus. She has special interests in amblyopia, retinopathy of prematurity (ROP), nasolacrimal duct obstruction, cortical visual impairment, congenital/pediatric cataracts, thyroid eye disease and genetic diseases that affect the eye. She has numerous publications in peer-reviewed journals and presentations at national meetings, and her clinical research has involved analyzing and improving adult strabismus outcomes, the use of a novel form of electroretinography in children with retinal dystrophies and projects with the National Institutes of Health - funded Pediatric Eye Disease Investigator Group (PEDIG). Dr. Grace also has a strong interest in international ophthalmology. She has spent time in eye hospitals in India and has ongoing projects in Nicaragua studying the effect of the Zika virus on visual development in children and improving access to ophthalmic care.
In her free time Dr. Grace likes to travel and have lots of adventures. Some of her favorites include skydiving with her husband, climbing an active volcano in Guatemala, and running with the bulls with her entire family in Pamplona. Some of her calmer hobbies are reading World War II fiction, long-distance running, and wine-tasting. Her husband is a mechanical and aerospace engineering professor at North Carolina State, and they have two wonderful children that love adventures too! They have found that North Carolina is a very beautiful and fun place to live with lots to explore.