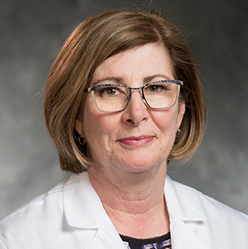 Patty A. Wild, M.A.
Audiology & Complete Hearing Aid Services
Location(s): North Durham
Patricia A. Wild, M.A. received her B.A. degree from California State University at Hayward and her M.A. degree from the University of Denver.
Patty worked as a clinical Audiologist at Daniel Freeman Memorial Hospital in Inglewood, California for 17 years before relocating with her family to Durham. She has worked at NC Eye, Ear, Nose and Throat Clinics for more than 10 years.
She is licensed by the North Carolina Board of Examiners for Speech and Language Pathologists and Audiologists, and the North Carolina State Hearing Aid Dealers and Fitters Board. Her primary areas of interest are hearing aid fitting and assistive technologies.