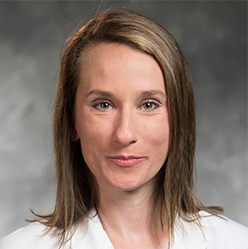 Melissa A. Rightor M.A., CCC-SLP-PC
Speech Pathology
Location(s): South Durham, Chapel Hill
Melissa A. Rightor, M.A., CCC-SLP-PC, is a PROMPT-certified speech-language pathologist. She received a bachelor's degree in Teachers of the Speech and Hearing Impaired from Ithaca College and a master's degree in Speech-Language Pathology from Kent State University.
Ms. Rightor has experience working with children with a variety of different diagnoses. She has also worked with adults with various needs, including stroke rehabilitation, acquired apraxia of speech, cognitive rehabilitation, voice disorders, and swallowing disorders.
Ms. Rightor is certified in Prompts for Restructuring Oral Muscular Phonetic Targets (PROMPT), a tactually grounded sensorimotor and cognitive-linguistic approach and technique for treating motor speech disorders in children and adults.
She has years of clinical experience treating children with feeding/swallowing disorders. Ms. Rightor believes that collaboration with a child's family and medical team is integral to success when addressing feeding and swallowing issues.
Ms. Rightor grew up in Pennsylvania but enjoys the weather and outdoor lifestyle of living in the Triangle. In her free time, Melissa enjoys exercising, paddle boarding, and spending time with her daughter.