---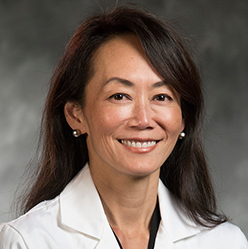 Kathy K. Yu, M.D., M.P.H.
Ear, Nose & Throat
Location(s): Chapel Hill
Kathy K. Yu, M.D., M.P.H. is a board-certified Otolaryngologist specializing in head and neck surgery. Dr. Yu was born in Hong Kong and immigrated to the United States at the age of three. She grew up in Manhattan Beach, California. She attended the University of Notre Dame and graduated with a Bachelors of Science degree in pre-professional sciences. She ventured to New Orleans, LA to attend Tulane University School of Medicine where she received a joint Medical Degree and a Masters of Public Health Degree in International Health. Dr. Yu joined the Department of Surgery at UNC-Chapel Hill in 1998 and completed two years of general surgery residency followed by four years of residency training in Otolaryngology/Head and Neck Surgery. She won several research awards as a resident.
Dr. Yu's practice encompasses all areas of general otolaryngology, treating both pediatric and adult patients. Her clinical interests include sinus disease and sinus/nasal surgery, thyroid and neck surgery, pediatric ENT such as ear infections, tonsil/adenoids.
Dr. Yu actively participates in charitable medical work in third world countries. She has traveled to Vietnam, Jamaica and Haiti on several occasions. Past experiences include running medical clinics that treat over 400 patients in one week, and performing surgery for thyroid goiters, sinus disease and cleft lips. She is committed to bringing medical care to children and families in destitute areas where healthcare providers are scarce. Read more here.
Prior to merging with North Carolina Eye, Ear, Nose and Throat, Dr. Yu was in private practice for eleven years as an owner of Carolina ENT in Chapel Hill. Dr. Yu's personal interests include spending time with her husband and two daughters, CrossFit, classical piano, tennis and running.