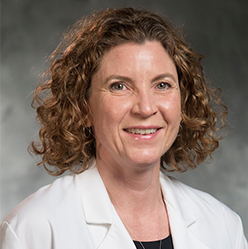 Julie E. Rockefeller M.S. CCC-SLP
Speech Pathology
Location(s): Cary
Julie E. Rockefeller, MS/CCC-SLP holds a bachelor's and a master's degree in Speech Language Pathology. She is board certified by the American Speech Language Hearing Association and is licensed by the North Carolina Board of Examiners for Speech Language Pathologists and Audiologists. With 3 years of supervised educational clinical training and 10 years of practice in the field, Ms. Rockefeller has gathered a wide variety of experiences as a permanent and traveling therapist. She has worked with children and adults of all ages from infancy to old age. In addition, she has worked in a variety of settings, including public schools, center-based schools for children with special needs, homes and daycare centers, preschools, hospitals and private clinics. Ms. Rockefeller has particular interest, training and experience with feeding therapy, oral motor therapy, and early childhood education, as well as augmentative and alternative communication. In addition, she has worked extensively with providing language enrichment, incorporating therapy goals from other disciplines (e.g., sensory integration, fine or gross motor needs). She has worked with others to create appropriate activities for small groups and classrooms, and coordinated therapy goals with classrooms, families and residential staff.
Ms. Rockefeller has worked with children and adults diagnosed with autism, Down Syndrome, Angelman Syndrome, Pervasive Developmental Disorder, Cerebral Palsy, agenesis of the corpus callosum, traumatic brain injury, blindness, hearing impairment, failure to thrive, fluency disorder, apraxia, articulation disorder, language delay, dyslexia, learning disorders, behavioral feeding disorder and oral phase dysphagia, among other diagnoses.
On a personal note, Ms. Rockefeller is currently living in Holly Springs with her husband and two young children. She enjoys swing-dancing, reading, crocheting, running and playing the flute in her spare time. Ms. Rockefeller is originally from Webster, NY.