---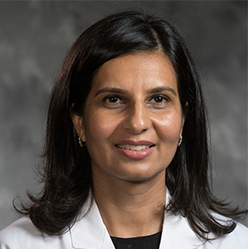 Geeta Chowdhary, O.D.
Optometry
Location(s): North Durham, Chapel Hill
Geeta Chowdhary, O.D. is a residency-trained optometrist who specializes in comprehensive eye care, soft contact lens fittings, particularly multifocal lenses. She is involved in the diagnosis and treatment of dry eye and the screening for eye diseases such as cataracts, glaucoma and macular degeneration amongst various other eye conditions. She is dedicated to caring for her patients and addressing their concerns and questions.
Dr. Chowdhary was born and raised in beautiful Kenya. In 1997, she completed a Bachelor's degree in Optometry at Aston University in Birmingham, England where she graduated with Honors. She practiced in Bognor Regis, England before moving to the United States with her husband. She further completed her Doctor of Optometry Degree in 2003 graduating with Honors, from the New England College of Optometry in Boston, Massachusetts. In 2004, Dr. Chowdhary pursued a Residency in Primary Care and Ocular Disease Management at the Veteran Affairs Brockton/Worcester Divisions in MA. She was attracted by the warmth and natural beauty of North Carolina and moved to the area in late 2005 where she now resides with her husband and 2 sons. Since her move, Dr. Chowdhary has practiced in the Triangle area.
Dr. Chowdhary is a member of the American Optometric Association, the North Carolina State Optometric Society and the Eastern District Society.
She enjoys cooking, traveling and spending time with her family in the outdoors.