---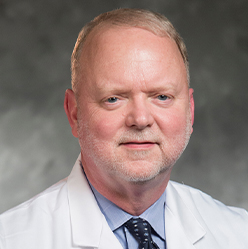 David L. Sappenfield, M.D.
Ophthalmology
Location(s): North Durham, Cary, Roxboro
David L. Sappenfield, M.D., a board-certified specialist in diseases and surgery of the retina and vitreous, joined North Carolina Eye, Ear, Nose & Throat in 1989.
He grew up in Fayetteville, NC, and attended Davidson College where he graduated Phi Beta Kappa. He then went to medical school at the University of North Carolina at Chapel Hill and subsequently completed an internship in internal medicine there.
He went on to a residency in Ophthalmology at the University of Florida in Gainesville and received his subspecialty training at the Foundation for Retinal Research in New Orleans.
His areas of expertise include care/management of macular degeneration, macular edema, diabetic retinopathy, retinal detachment, macular pucker, macular hole and retinal vein occlusion.
Dr. Sappenfield enjoys computers, classic Ford Mustang restoration, car repair, travel and general tinkering.