---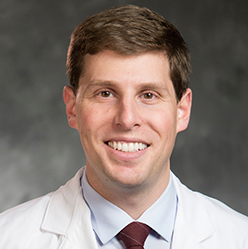 Benjamin S. Oberman, M.D.
Ear, Nose & Throat
Location(s): South Durham, North Durham, Chapel Hill
Ben Oberman, M.D. is a board-certified otolaryngologist specializing in the treatment of ear, nose and throat conditions of adults and children. His clinical interests include treating allergies, chronic sinus disease, head and neck endocrine surgery, snoring and sleep-disordered breathing and cosmetic injectables.
Dr. Oberman joined the North Carolina Eye, Ear, Nose & Throat practice in August, 2016 .
Dr. Oberman was born and raised in Knoxville, Tennessee. He attended Washington University in St. Louis and graduated with a Bachelor of Arts degree in Philosophy, Neuroscience, and Psychology. He returned to Tennessee for his medical school education at The University of Tennessee Health Science Center College of Medicine.
He recently completed his Otolaryngology – Head and Neck Surgery residency at Penn State Hershey Medical Center and was awarded a teaching award and humanism award. He has published numerous articles in his field and has presented at regional, national, and international meetings.
Dr. Oberman's practice encompasses a variety of otolaryngologic disorders and diseases, including ears, nose and sinuses, tonsils and throat, neck and glands. Dr. Oberman also offers cosmetic services. He enjoys helping his patients learn about their conditions so they can truly be a part of the team in their medical and surgical care.