---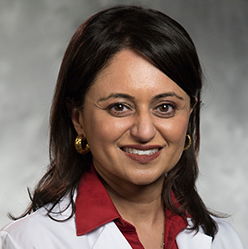 Asra Firozvi, M.D.
Ophthalmology
Location(s): North Durham, Cary
Asra Firozvi, M.D. is a board-certified ophthalmologist. She was born in Stamford, CT but moved to Texas at a very young age. She graduated valedictorian from Alief Hastings High School. Dr. Firozvi graduated from the University of Texas at Austin with a BA in Spanish and a minor in Biology. She then continued her education by obtaining a medical degree from Texas Tech University Health Sciences Center.
During residency, Dr. Firozvi developed a strong interest in the diagnosis, management, and surgery of Glaucoma. This led her to pursue a fellowship in Glaucoma under the directorship of Dr. Robert Stewart at Houston Eye Associates.
Throughout her education, Dr. Firozvi has been awarded several scholarships and awards and has been a member of several professional societies. She is currently a member of the American Board of Ophthalmology, the American Glaucoma Society and the American Academy of Ophthalmology.
She has also conducted and participated in numerous research studies throughout the course of her medical career.
In her free time, Dr. Firozvi enjoys spending time with her family. She also enjoys traveling and cooking.