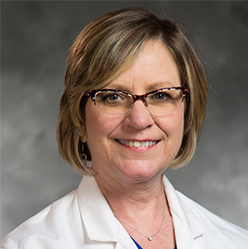 Anne Harbour-Tonn MS/CCC-SLP
Speech Pathology
Location(s): North Durham
Anne Harbour-Tonn, MS/CCC-SLP is a clinical speech-language pathologist specializing in stuttering, voice disorders, and pediatric speech and language disorders. She received a bachelor's degree and a master's degree in Speech-Language Pathology, both from East Carolina University.
Ms. Harbour-Tonn enjoys working with children and adults who stutter. She employs traditional fluency modification and shaping and a cognitive behavioral approach. She also provides therapy to children and adults with Down syndrome, Autism spectrum disorder, developmental delays, oral motor disorders, and voice disorders. Ms. Harbour-Tonn offers Talk Tools Oral Placement Therapy, a tactile-sensory approach to speech therapy, and Prompts for Restructuring Oral Muscular Phonetic Targets (PROMPT), a tactually grounded sensori-motor and cognitive-linguistic approach and technique for treating motor speech disorders.
Ms. Harbour-Tonn performs Modified Barium Swallow Studies to assess oral, pharyngeal, and cervical esophageal abnormalities. She specializes in understanding oropharyngeal and esophageal swallowing relationships, which allow her to provide optimal services, thus reducing the risk that underlying causes of a patient's swallowing difficulty will go undetected during an examination.
Ms. Harbour-Tonn is a native North Carolinian with 30+ years of experience rehabilitating speech and language disorders. She resides in Durham with her husband and has two children. In her spare time, she enjoys all outdoor activities, music, time together with family and friends, and is active in her church.