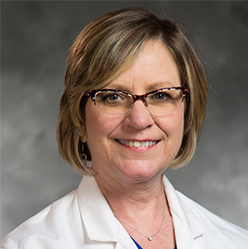 Anne Harbour-Tonn MS/CCC-SLP
Speech Pathology
Location(s): South Durham, North Durham
Anne Harbour-Tonn, MS/CCC-SLP is a clinical speech language pathologist who is board certified by the American Speech Language Hearing Association and is licensed by the North Carolina Board of Examiners for Speech Language Pathologists and Audiologists.
Ms. Harbour-Tonn is a native North Carolinian with 30+ years experience in rehabilitation of speech and language disorders. She has worked with NCEENT since 2011 with prior experience in a variety of settings where she specialized in pediatric speech and language disorders, stroke rehabilitation, cognitive rehabilitation, swallowing therapy, and school aged children with learning disabilities. She has experience working with a variety of populations including adults in rehabilitation facilities due to degenerative diseases such as Parkinson's and Multiple Sclerosis as well as adult patients following stroke or head injuries. Ms. Harbour-Tonn performs Modified Barium Swallow Studies to assess oral, pharyngeal and cervical esophageal abnormalities. She specializes in the understanding of oropharyngeal and esophageal swallowing relationships which allow her to provide optimal services, thus reducing the risk that underlying causes of a patient's swallowing difficulty will go undetected during an examination.
She also has experience with children and adults with Down's syndrome, Autism Spectrum, developmental delays, oral motor disorders, voice and stuttering disorders. In addition, Ms. Harbour-Tonn has received training in Talk Tools Oral-Placement Therapy, which is a tactile-sensory approach to speech therapy. This technique develops the oral motor muscles and muscle movements needed for improving speech sound production and is integrated with the traditional auditory-visual therapy approach. Ms. Harbour Tonn is also trained in Prompts for Restructuring Oral Muscular Phonetic Targets (PROMPT), which is a tactually grounded sensori-motor and cognitive-linguistic approach and technique for treating motor speech disorders in children and adults. She has taken the Introduction and Bridging course for PROMPT.
Ms. Harbour-Tonn enjoys working with children and adults who stutter. She employs traditional fluency modification and fluency shaping, as well as a strong emphasis on cognitive behavioral approach to therapy.
Ms. Harbour-Tonn received training in videostrobscopic examinations and acoustic analysis of voice disorders through a course offered by Emory University and manages patients of all ages referred for voice evaluation and treatment.
Ms. Harbour-Tonn welcomes patients of all ages. Her primary interests include: stuttering, swallowing disorders, voice disorders, pediatric speech and language disorders, childhood apraxia of speech, cognitive rehabilitation, and stroke rehabilitation,.
Ms. Harbour-Tonn resides in Durham with her husband. She has a 25 year old son and a 19-year-old daughter. They enjoy all outdoor activities, music, time together with family and friends, and are active in their church.