Your Durham, NC Eye Doctor Can Prescribe the Perfect Glasses for You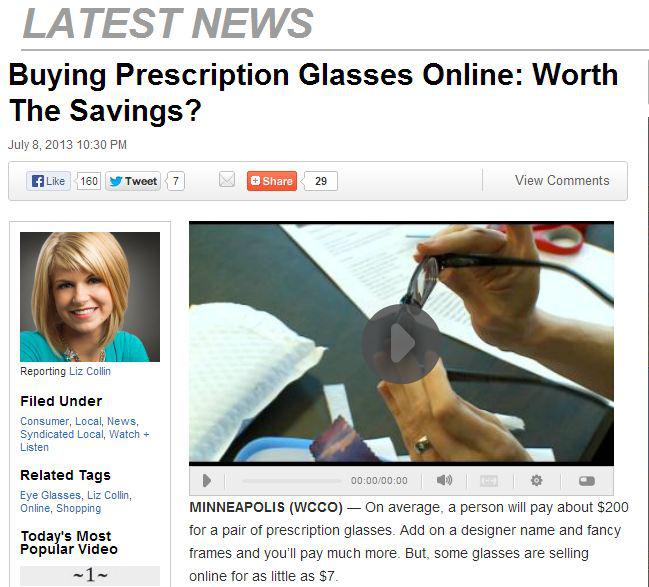 If you append the phrase "buy online" to just about any item, chances are there's someone selling it on the World Wide Web—usually for a cheap price. Because of this, budget-conscious shoppers are turning to the Internet instead of their ophthalmologists to obtain prescription glasses. CBS Minnesota conducted a little experiment to see if the savings are worth it:
On average, a person will pay about $200 for a pair of prescription glasses. Add on a designer name and fancy frames and you'll pay much more. But, some glasses are selling online for as little as $7.
WCCO wondered how they measure up. With the help of two women who ordered two pairs a piece, we took some of these bargain glasses to an optometrist.
Ann Petersen has been wearing glasses for 23 years. Monique Paananen has been wearing them for at least 15 years. They know how expensive a new pair can cost. That's why it didn't take too much convincing to get them to focus on a new way to find glasses.
As it turns out, the astigmatism correction in one of Petersen's glasses was off. However, an even bigger problem surfaced for all four pairs—wrong pupil distance.
Cary, Durham, Roxboro, Chapel Hill Eye Glasses
In order to give you the clearest vision, the optical center of a glass's lens has to be directly in front of your pupil, a measure ophthalmologists call pupil distance or PD. While most online sellers provide ways to measure your PD on their website, this DIY method can't guarantee accurate measurements. If you're bent on purchasing your glasses online, you should at least get your PD taken by your eye doctor in Durham, NC.
Another black mark against glasses purchased online is that, according to the journal Optometry, almost half of them don't meet impact testing standards. This is an important requirement since the Food and Drug Administration considers all prescription glasses as medical devices. If the lenses shatter or crack easily, they can cause serious damage to your eyes.
Since most glasses have to be replaced every two or three years, it's understandable why people are looking for cheaper ways to buy them. However, protecting and prolonging your eyesight is a worthy investment. If you're thinking about buying your glasses online, consult first with trusted eye doctors in Durham, NC like those from the North Carolina Eye, Ear, Nose & Throat.
(From Buying Prescription Glasses Online: Worth The Savings?, CBS Minnesota, Published July 8, 2013)