Welcome to the PROMPT Difference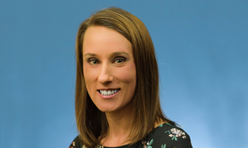 Apraxia of speech is neurological difference which makes it very difficult to sequence sounds and words correctly. As a speech-language pathologist, I have always worked with children with intelligibility issues; however, about eight years ago, I started using basic touch cues to help my patients feel individual sounds that they were targeting in therapy. I saw some positive results, so I decided to explore a more systematic approach for the use of tactile cues to improve speech intelligibility. That was when I discovered Prompts for Restructuring Oral Muscular Phonetic Targets (PROMPT).
What's PROMPT?
PROMPT is a tactile-based approach for treating motor speech and language disorders in children and adults. It looks at the whole person and how all of the systems work together in an integrated manner. It was a logical extension from using the simple touch-based cues I learned previously. PROMPT transformed the way that I look at the motor speech system. What good is talking about errors on individual speech sounds if there is no reason provided for whythose sounds are produced in that manner? Speech is a complex, integrative motor task. People with apraxia of speech have significant difficulties with arranging sounds and words, not just making individual speech sounds. Research has shown that using auditory, visual, and tactile cueing during speech practice and feedback is the most effective treatment for severe motor speech disorders. PROMPT provides a framework for use of all three modalities from the single sound to complex conversational levels. The outcomes and expedited rates of progress I saw in my own patients after beginning my PROMPT studies in 2013 lead me down the three-year journey to completing my PROMPT certification. Nothing has changed my clinical thinking more than PROMPT.
Over the past five years, I have dedicated myself to becoming a more effective and efficient speech-language pathologist. PROMPT has single handedly been the most beneficial skill that I have added to my therapy toolbox. As one of only two certified PROMPT therapists in all of North Carolina, I am proud to have the PROMPT expertise to better serve my patients and their families.
Melissa Rightor is a Speech-Language Pathologist at North Carolina Eye, Ear, Nose and Throat. She sees patients in our Cary, North Durham and South Durham offices. Call 919-595-2000 to schedule an evaluation with Melissa.
By: Melissa Rightor, M.A., CCC-SLP-PC