Volumizing Fillers Can Help You Look Your Best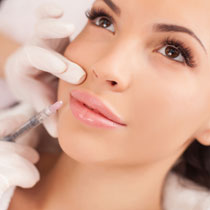 When you look your best, you feel your best. As we age, the volume in our face decreases. Facial fat atrophy happens gradually throughout our lives causing a reduction in elasticity and collagen. In our youth, the "triangle of beauty" is centered on a line drawn between the highest points of our cheeks. As we age, the triangle of beauty inverts, with the widest point at the jaw line. Facial fillers can lift, plump and replace the volume in the lower portion of the face that is lost over time. Most fillers are made of hyaluronic acid, a natural substance that your body produces naturally. Depending on the type, fillers can also help produce new, fresh collagen.

Which Filler is Best For Me?
Different fillers help to address different concerns. Carefully selecting the right filler is critical in addressing the area that you are looking to enhance. Thicker fillers are often used for moderate to severe areas of volume loss like the cheek or around the mouth, while thinner fillers are usually recommended for more delicate areas like the under the eye or lips.
Injecting facial fillers is a precise procedure that requires time to address the anatomical changes of the face while meeting your aesthetic goals and budget. At North Carolina Eye, Ear, Nose & Throat, cosmetic procedures are performed by Ami A. Shah, M.D., a certified plastic surgeon who specializes in surgery for the eyelids and face.
Injection time can vary from 30 – 90 minutes depending on the treatment area and amount of correction needed. Treatment should take as much time as required. Fillers are semi-permanent and last up to 12 months. Most people can take up to 2cc of product to notice a substantial difference. Results are immediate. See NCEENT for your options for cosmetic procedures in Cary, Chapel Hill, Durham, Roxboro.

Swelling is to be expected after an injection. The under eye circles and lips swell more than cheeks or folds around the mouth. This swelling typically clears in 7-10 days for most patients.
A detailed analysis of your face is needed before a filler can be selected for you. Dr. Shah will help you select the treatment that is best for your desired area of improvement. During the month of July, buy one syringe, get the second one for 50% off. The second syringe must be of equal or lesser value. Restrictions apply. For more information or to schedule a consultation with Dr. Shah, call 919-595-2000.
by: Ami Shah, M.D.