Undergoing LASIK in Durham, NC Allows You to Live a Lens-Free Life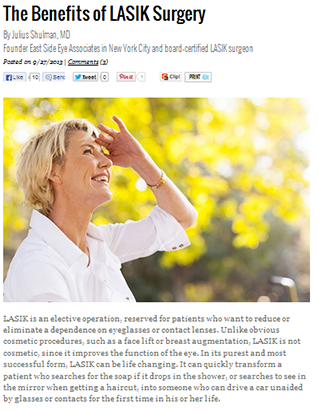 The Dr. Oz Show recently released an article about the benefits of LASIK surgery. It explains what the procedure is and how patients can benefit from it:
LASIK is an elective operation, reserved for patients who want to reduce or eliminate a dependence on eyeglasses or contact lenses. Unlike obvious cosmetic procedures, such as a face lift or breast augmentation, LASIK is not cosmetic, since it improves the function of the eye. In its purest and most successful form, LASIK can be life changing. It can quickly transform a patient who searches for the soap if it drops in the shower, or searches to see in the mirror when getting a haircut, into someone who can drive a car unaided by glasses or contacts for the first time in his or her life.
The article adds that the military chooses the surgery over contact lenses and glasses because it makes it safe for soldiers to see better, especially during difficult conditions. In fact, 95.9% of Navy pilots believe that the procedure has improved their work and 99.6% would recommend this treatment.
It is a fact that wearing eyeglasses or contact lenses can be inconvenient. When you need to do something late at night such as carrying a baby to put them back to sleep, wearing glasses might get in the way. With LASIK, on the other hand, you can accomplish more activities without having to worry about getting dust in your contacts or keeping your glasses secure.
If you want to experience a lens-free life, all you have to do is visit an ophthalmologist that offers LASIK in Durham NC. Make sure that the doctor is board-certified with enough credentials so you can freely discuss your options.
One important benefit that you can also get from the surgery is the cost involved. There's no question that you can spend much on contacts, solutions or glasses. On the other hand, undergoing a one-time professional LASIK surgery in Durham NC will eliminate the need to replenish optical supplies that can cost you a thousand dollars annually. Even if the procedure is a major financial investment, it can save you more money in the long run.
The question now is: should you undergo the surgery for your eye problem? The article reminds you not only to find the right doctor but to also ask questions about the surgery. However, you should know that complications are rare based on scientific evidence, so it may just be the right solution after all.
(Info from The Benefits of LASIK Surgery, The Dr. Oz Show, Published September 27, 2013)