Meet Our New ENT Doctor Elizabeth M. Hueman, MD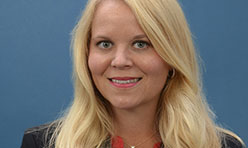 "I love taking care of patients," said Elizabeth M. Hueman, MD, North Carolina Eye, Ear, Nose & Throat's new doctor of Otolaryngology. "It's the reason I chose to become a doctor."
Dr. Hueman is a board-certified Otolaryngologist/Head & Neck Surgeon. She studied biology at the University of North Carolina at Chapel Hill. She stayed in North Carolina for medical school and graduated from Wake Forest University School of Medicine in 2002. She then completed her Otolaryngology/Head & Neck Surgery residency at the University of Texas Health Science Center San Antonio in 2007. She stayed on faculty at UTHSCSA for a year as an assistant professor while waiting for her husband to complete his residency in Otolaryngology/Head & Neck Surgery. During this time, she started a new resident clinic in downtown San Antonio and received the residents' teaching award. Dr. Hueman's husband, NCEENT Otolaryngologist Kevin G. Hueman, MD, FAAOA, was relocated to Fort Bragg, NC where he served as Chief of Otolaryngology/Head and Neck Surgery at Womack Army Medical Center. Dr. Elizabeth Hueman joined and became a partner at Fayetteville Otolaryngology/Head & Neck Surgery where she served her patients for nine years prior to joining NCEENT.
"I really enjoy caring for both children and adult patients, and I enjoy the opportunity of treating them both medically and surgically, "said Dr. Hueman. "For instance, treating a child with speech delay and hearing loss secondary to middle ear effusions with ear tubes then seeing them back in follow up with normal hearing and speech and language progression is extremely gratifying."
Dr. Hueman's practice will encompass medical and surgical treatment to patients with a variety of conditions including allergic disease, sinus disease, snoring, throat infections, neck masses, disorders of the ears/hearing, tonsillectomy/adenoidectomy, thyroid surgery, sinus surgery, and neck surgery.
"I enjoy helping patients learn about their conditions so that they can be part of their medical and surgical team," said Dr. Hueman.
Dr. Hueman sees patients in our Cary and North Durham offices. Call 919-595-2000 to schedule an appointment.