LASIK Surgery in Durham, NC: Enabling People to See Clearly Once Again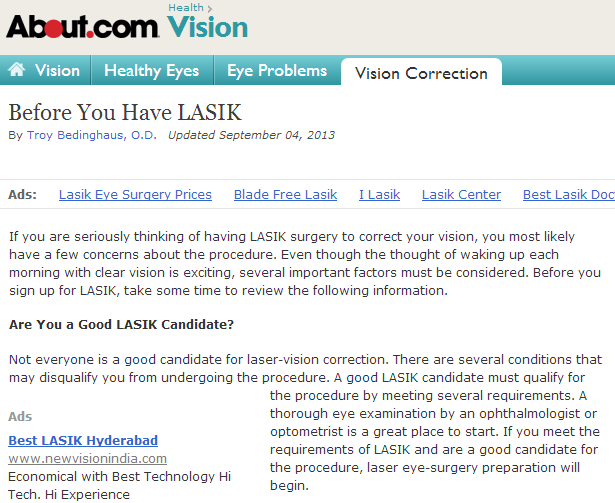 Durham, the Bull City of North Carolina, is known for its flourishing downtown area and notable activities such as the Bimbe Cultural Arts Festival happening this May and the American Dance Festival that takes place in June. However, you're likely to miss out on some of the action if you have poor eyesight or astigmatism. While wearing eyeglasses or contacts might provide temporary visual clarity, you might want to consider a procedure that offers lasting results: LASIK.
Laser-assisted In Situ Keratomileusis is a modern-day surgical procedure for correcting refractive errors for nearsightedness, farsightedness, and astigmatism. Despite the degree of precision it offers, LASIK, like any other eye surgery, involves some risks. In an article for About.com, Troy Bedinghaus, O.D. presents some of the important factors patients need to consider before they undergo the procedure.
"Not everyone is a good candidate for laser-vision correction. There are several conditions that may disqualify you from undergoing the procedure. A good LASIK candidate must qualify for the procedure by meeting several requirements. A thorough eye examination by an ophthalmologist or optometrist is a great place to start. If you meet the requirements of LASIK and are a good candidate for the procedure, laser eye-surgery preparation will begin.

LASIK will almost certainly reduce your dependence on glasses and contact lenses, but there can be no guarantee that you will be able to achieve perfect vision without glasses. It is very common, though, for patients to demonstrate excellent vision during follow-up examinations after the procedure and discontinue the use of glasses or contacts immediately."
Treatment for nearsightedness, farsightedness, and astigmatism
Patients also need to meet certain physiological requirements before they can be considered suitable candidates for LASIK. In brief, LASIK in Durham, NC is not recommended for anyone who is below 18, planning to get pregnant, taking certain medications, or in poor general health. Such restrictions are intended to prevent complications among at-risk individuals.
The decision to undergo LASIK, in other words, entails a proper consultation with a qualified specialist. You might want to see an eye doctor from a reputable practice like North Carolina Eye Ear Nose & Throat to see whether LASIK surgery in Durham, NC is a suitable procedure for correcting your vision. Your eye doctor can perform a visual acuity test, among other things, to detect potential problems that may have previously gone undetected.
(Source: Before You Have LASIK, About.com)