LASIK in the Olympics! - Cary, Chapel Hill, Durham, Roxboro LASIK Surgeons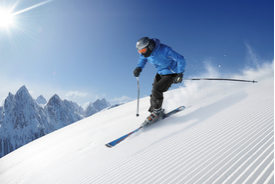 Athletes having LASIK and improved performance
With more and more celebrity athletes having LASIK and their performances improving amazingly, it's essential for the laser vision correction specialty to keep abreast of the sports world. Here we are in March when winter sports are winding down, as baseball is ramping up in Spring training camps in the Southwest—but just as important to sports fans may be that we are only a little over 10 months away (Feb 2014) from the historic premiere of Russia's being a host country for the Winter Olympics—time to plan your Olympic trip!
One of the LASIK shining stars of the USA Winter Olympics is downhill skier Lindsey Vonn, who after recently having LASIK said it totally changed the sport for her.
Although Vonn had the procedure with another surgeon, she has become the LASIK spokesperson for a different eye surgery center, so maybe the Olympic gold medalist and World Cup champion is open to being a spokesperson for other eye surgery centers as well!
This blogger had had reservations about going to the Winter anything in Russia, until about a month ago when I met a former inhabitant of Sochi, Russia, who gave me a personal "tour" by vivid, detailed descriptions of winter life in the 2014 Winter Olympics host city. She said from Sochi it's about a two-hour drive (40-min. train ride—yeah, modern, maglev rail) to the slopes, which is pretty far away in terms of temperature and weather. Sochi is a Black Sea coastal town, and is a thriving, modern resort destination with mild winters. So now that I've been briefed on Sochi, Russia, I plan to make reservations! (See http://www.olympic.org/sochi-2014-winter-olympics.)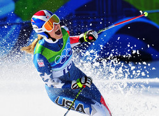 I see a future blog or two compiling statistics on athletes, comparing performances of LASIK-treated ones against others. Indeed it seems inevitable that LASIK is becoming more and more vital to the sports world, when such stars as Vonn says, in a recent interview, that more and more athletes are turning to laser vision correction just to remain competitive! The winningest American skier in the history of the sport, Vonn also prophesied that in terms of seeing the gates and judging the terrain of the long, downhill mountains, the skiier's visual acuity alone could determine the difference between winning and losing.
Image source: http://www.docshop.com/2010/07/02/olympic-gold-medal-skier-lindsey-vonn-has-lasik-eye-surgery.
Image source: http://www.prweb.com/releases/2010/06/prweb4125694.htm.