Lasik in Durham NC: The Proper Treatment To Achieve Healthy Eyesight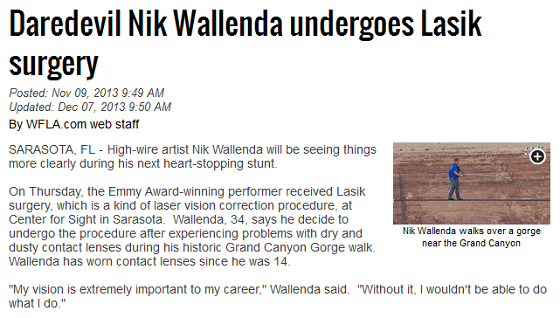 Balance is achieved by the sensorimotor control systems which include sight, touch, and motion
Nik Wallenda is not "The King of the Wire" for nothing. The Sarasota Florida native, who currently holds seven Guinness World Records, has walked the tightrope over Niagara Falls, and recently, The Grand Canyon. In fact, he has been walking the wire since the tender age of 4 and continues to do so in the hope of breaking more records and setting himself apart from the competition.
None of Wallenda's achievements, however, would be possible without balance, one of the key aspects in tightrope walking. Since balance can only be maintained or achieved by the sensorimotor control systems which includes sight, touch, and motion, the absence of one will apparently keep the body from harmonizing with the mind.
This is the reason why Wallenda recently underwent Lasik or Laser-Assisted In Situ Keratomileusis, surgery as reported by WFLA.Com in an article published on Nov 09, 2013:
High-wire artist Nik Wallenda will be seeing things more clearly during his next heart-stopping stunt. On Thursday, the Emmy Award-winning performer received Lasik surgery…
Wallenda, 34, says he decide to undergo the procedure after experiencing problems with dry and dusty contact lenses during his historic Grand Canyon Gorge walk. Wallenda has worn contact lenses since he was 14.
"My vision is extremely important to my career," Wallenda said. "Without it, I wouldn't be able to do what I do."
Lasik is usually performed on individuals wearing glasses or contact lenses. It corrects nearsightedness (myopia), farsightedness (hyperopia), and astigmatism.Lasik in Durham NC can be done as an outpatient procedure in established centers, such as North Carolina Eye, Ear, Nose & Throat.
In the case of Wallenda, Lasik was the best option, especially after his contact lens problem impeded his vision. Not only is the procedure safe, but it is also highly effective, as it enables clear vision immediately or a day after the surgery, which is an advantage for this daredevil to make him do what he does best. Moreover, the procedure only takes a few minutes and does not require bandages or stitches.
If you're ready to undergo Lasik surgery in Durham NC, remember to consult a trusted surgeon who'll make you go through a complete eye examination to ensure that your eyes are healthy enough for the procedure.
(Article Excerpt and Image from Daredevil Nik Wallenda undergoes Lasik surgery, WFLA.com, Nov 09, 2013)