LASIK in Durham, NC Among Methods That Help Restore Vision Among Obese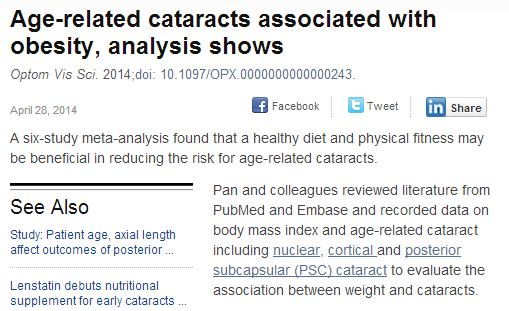 Cataracts associated with obesity
Cataracts are a condition that will affect many Americans as they grow older and approach retirement age. However, an April 28, 2014 Healio article points out a connection between two unlikely fields of health:
"A six-study meta-analysis found that a healthy diet and physical fitness may be beneficial in reducing the risk for age-related cataracts.

Pan and colleagues reviewed literature from PubMed and Embase and recorded data on body mass index and age-related cataract including nuclear, cortical and posterior subcapsular (PSC) cataract to evaluate the association between weight and cataracts.

As they reported in Optometry and Vision Science, the six studies included 163,013 participants 40 to 84 years old.

Results showed that obesity was associated with an increasing risk of nuclear, cortical and PSC cataract. They also demonstrated that being overweight was strictly associated with an increasing risk of PSC cataract."
The study raised the possibility that proper exercise is integral to taking care of one's eyes. However, golden agers who find that their vision is slowly getting blurry (and who find they lack the strength for exercise routines) should consult an eye doctor and mull over the possibility of going through LASIK in Durham, NC.
Cataracts are only one among many eye conditions that people experience. These are cloudy areas that develop within the eye lens, and a large concentration of a cataract can impair vision since it blocks the entry of light to the eyes.
There are different things people can do in order to help protect their eyes and delay age-induced cataracts. For one, eating food rich in lutein and vitamin A can help strengthen them. Wearing sunglasses and a hat can also protect them from too much sun, as can wearing a sunscreen on the eyelids.
More importantly, it is imperative that people have their eyes checked and- once diagnosed with cataracts- consider getting cataract surgery in Durham, NC. Ophthalmologists from reputable centers like North Carolina Eye, Ear, Nose & Throat are trained to properly do LASIK surgery that can help correct vision immediately and without any stitches.
Ultimately, people with cataracts and weight problems can approach professional eye doctors to make their world that much brighter. The best part is: they get to do it without breaking a sweat.
(Source: Age-related cataracts associated with obesity, analysis shows, Healio, April 28, 2014)