Introducing Our New Cornea Specialist Steven J. Shaw, MD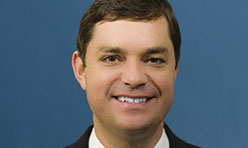 Steven J. Shaw is a cornea fellowship trained, board-certified Ophthalmologist. He's fulfilling his childhood dream of working in medicine.
"Science and math were always my strongest subjects, and I wanted to have the opportunity to directly impact people's lives," said Dr. Shaw. "Becoming a physician was something I had strived for since I was young, and I was drawn to ophthalmology as a specialty because I became fascinated with the physiology of the eye and the opportunity to help improve patients' vision."
Dr. Shaw provides comprehensive ophthalmology care to adults and specializes in cataract surgery, refractive surgery (LASIK), and corneal disease and transplantation. His practice also includes diagnosis and treatment for common eye diseases including dry eye and glaucoma.
Dr. Shaw graduated from Duke University with a BS in biology and a minor in chemistry in 2001, and went on to receive his medical degree from the Brody School of Medicine at East Carolina University. He then completed a medicine internship at George Washington University in Washington, D.C. and ophthalmology residency at Wake Forest University. Dr. Shaw also completed a cornea fellowship with the Eye Consultants of Atlanta specializing in complex cataract surgery, corneal transplants including DSEK/DMEK/DALK, and refractive surgery.
Cataract Surgery, Refractive Surgery, Corneal Disease and Transplantation
"I enjoy performing eye surgery and then seeing patients postoperatively to follow how the operation has improved their vision," said Dr. Shaw.
Dr. Shaw was previously on faculty at the Wake Forest University Eye Center before entering private practice. He has co-authored numerous publications, participated in many clinical trials, and has spoken at state and regional meetings in the past. Dr. Shaw's passion is listening to patients and helping them live healthier lives.
"I remember getting a call on New Year's Day from a woman who was very concerned about her husband. He had been having gradual vision loss and after seeing several providers, he still did not have a diagnosis. After carefully listening to his history and performing a detailed exam, I was able to help diagnose the patient with a large brain tumor. He was referred to a neurosurgeon who successfully removed the tumor and saved his life. As an ophthalmologist, I rarely get a chance to save someone's life, but this experience showed how spending just a little extra time listening to a patient can make such a difference," said Dr. Shaw.
Dr. Shaw will see patients in our North Durham and South Durham offices beginning September 1, 2017. Dr. Shaw will present FREE Cataract Seminar in our South Durham office on September 21, 2017 at 6:00 pm. Register today.
For more information or to schedule an appointment, call 919-595-2000.