Facts to Know from Your Eye Doctor in Durham, NC: About Astigmatism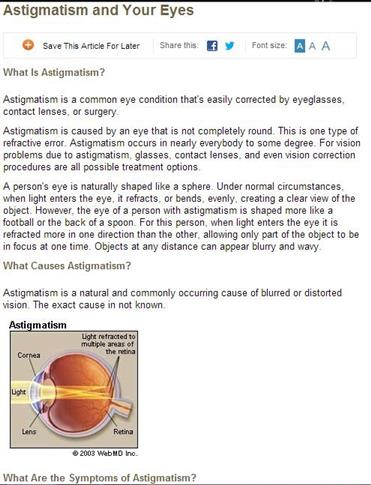 Astigmatism in patients in Cary, Durham, Chapel Hill, Roxboro
Astigmatism is a common eye disorder that, at minimum, results in blurry vision– believe it or not, nearly every person, at some point in their lives, will have astigmatism, although it might not be malign enough to warrant a visit to your local eye doctor in Durham, NC. It is quite common because it is caused by eyes which aren't completely round. Here are some of the things you need to know about this particular condition:
Symptoms
Oftentimes, astigmatism is accompanied by various other vision problems, nearsightedness or farsightedness among them. What separates them though, is that the former is typically exhibited early in life through symptoms like eye strain, headaches, and the need to constantly squint. This problem can lead children to a difficult time at school.
Causes
Since it could show up in childhood, many experts purport that astigmatism just might be hereditary, where children inherit the refractive problems in their parents' vision. Another known cause is injury or disease that happened to permanently damage the victim's cornea function. The disease in this case is called keratoconus, since it makes the cornea thinner and more cone-shaped.
Diagnosis
According to WebMD, this is how astigmatism is diagnosed:
"Your eye doctor can diagnose astigmatism with a thorough eye exam. Astigmatism may occur with other vision problems such as nearsightedness and farsightedness. Because astigmatism may increase slowly, you should visit your eye doctor whenever you notice changes in your vision."
Treatments
Medical practices like North Carolina Eye, Ear, Nose & Throat center typically treat patients with astigmatism via a procedure known as refractive or laser eye surgery. In this, a laser is used to correct your vision by changing the shape of the cornea surface back to how it normally should be.
If you want to know more about astigmatism and have your eyes looked at in the process, contact a reputable Durham eye doctor and have a checkup scheduled. Ask them about the procedures that would work best on you, since technology has already allowed for a wide variety of laser eye surgery treatments. Moreover, some levels of astigmatism could even be treated using simple prescription corrective glasses.
(Article Information and Image from Astigmatism and Your Eyes, WebMD)
Visit North Carolina Eye, Ear, Nose and Throat for Cary Eye Exam, Chapel Hill Eye Exam, Durham Eye Exam, and Roxboro Eye Exam!