Eye Exams - Meet Dr. Geeta Chowdhary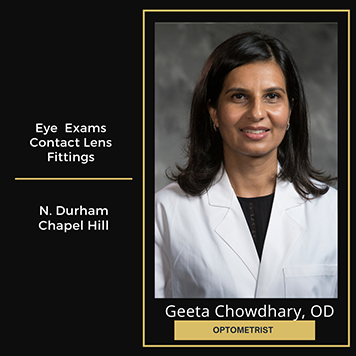 Eye Exams - Contact Lens Fittings - Optometrist in N. Durham and Chapel Hill
Meet Your Provider Dr. Geeta Chowdhary.
She specializes in comprehensive eye exams, soft contact lens fittings, including multifocal lenses.
Dr. Chowdhary treats dry eye and screens for cataracts, glaucoma and macular degeneration. She's who you want to see if you need update your eyeglass or contact prescription.
Dr. Chowdhary works in our North Durham and Chapel Hill Offices.
Call 919-595-2000 to schedule an appointment or book online here: https://www.nceent.com/meet-the-doctors/geeta-chowdhary-od