Eye Doctor in Durham, NC Can Spot Eye Problems and Other Health Woes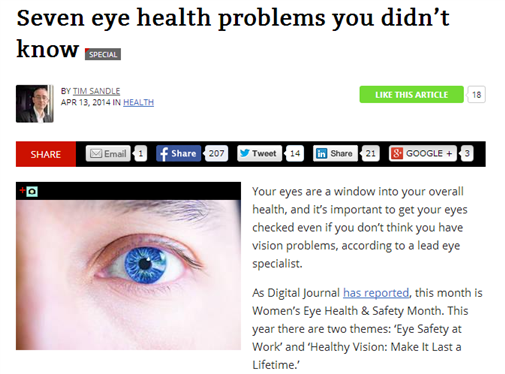 "The eyes," is a typical answer for people asked what feature they find most attractive in their partner. A Digital Journal story published April 13, 2014 also points out that the eyes are also the key to spotting major diseases:
"Dr. Brian Boxer Wachler, a nationally recognized Beverly Hills Ophthalmologist… states that he has had many patients come in for a routine eye exam only to leave with a referral to a different medical specialist based on what he can see in their eyes."
Doctor Wachler enumerated some of these diseases:
"Cancer: A routine eye exam can see changes in the structure of the eyes and unusual growths, including a rare form of cancer called Ocular Melanoma which develops within the cells that make pigmentation in the eye. Skin cancer can also be detected through an eye exam, as lesions called basal cell carcinomas can show up on the eyelid and can possibly spread to the brain through the eye.

Autoimmune Disorders: A routine eye exam can detect an inflammation of the light-sensitive retina at the back of the eye, which may be a sign of Lupus or other autoimmune disorders."
The doctor also listed diabetes and hypertension as diseases that can be quickly identified through an ocular exam. The article stresses the importance of regularly having one's eyes checked by a capable Durham, NC eye doctor.
Besides these diseases, good eye doctors can also identify common eye-related problems such as presbyopia, cataracts, glaucoma, and corneal. These conditions can have a negative effect on vision and can seriously impair a person's ability to function effectively.
Eye Doctors for Cary, Durham, Chapel Hill, Roxboro eye exams.
This is why it is important for people to take good care of their eyes. Eating foods rich in omega-3, lutein, and vitamin A can help fight off age-related eye problems. Wearing sunglasses and practicing good lifestyle choices (like quitting smoking and taking a rest from the computer after extended use) can also help people protect their eyes.
The best part is: you won't have to go it alone. A trusted Durham eye doctor like one from North Carolina Eye, Ear, Nose & Throat can diagnose eyesight problems and suggest methods that can help keep your eyes in good condition.
In the end, people with healthy eyes should not wait for their sight to deteriorate before they seek medical assistance. Regular correspondence with an eye doctor will be a good habit to pick up. Contact NCEENT to schedule your Cary Eye Exam now!
(Source: Seven eye health problems you didn't know, Digital Journal, April 13, 2014)
Visit North Carolina Eye, Ear, Nose and Throat for your Durham Eye Exam
(Image text: Your eyes are a window into your overall health, and it's important to get your eyes checked even if you don't think you have vision problems, according to a lead eye specialist. As Digital Journal has reported, this month is Women's Eye Health a& Safety Month. This year there are two themes: 'Eye Safety at Work' and 'Healthy Vision: Make it Last a Lifetime.')