Durham, NC LASIK Surgery: Helping Athletes Score Points and Win Games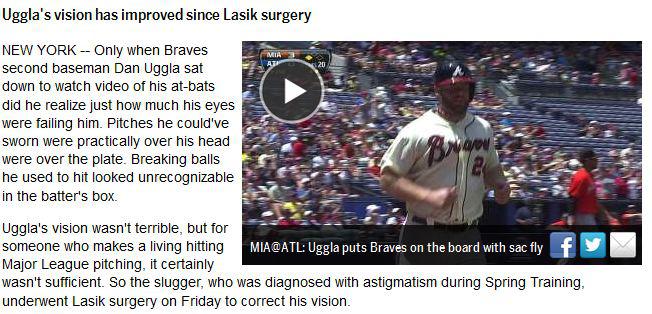 LASIK Surgery: Helping Athletes
Humans are inherently visual creatures, primarily relying on vision to process the glut of information around them. As such, eyesight problems not only affect quality of life; they also compromise a person's capacity to do their job. For this exact reason, a major league baseball player recently elected to get LASIK surgery to correct his sight:
Only when Braves second baseman Dan Uggla sat down to watch video of his at-bats did he realize just how much his eyes were failing him. Pitches he could've sworn were practically over his head were over the plate. Breaking balls he used to hit looked unrecognizable in the batter's box.

Uggla's vision wasn't terrible, but for someone who makes a living hitting Major League pitching, it certainly wasn't sufficient. So the slugger, who was diagnosed with astigmatism during Spring Training, underwent Lasik surgery on Friday to correct his vision.

So far, the surgery appears to have been successful.

"The little things, I've noticed," Uggla said. "I can see a lot more clear."
LASIK is actually short for "laser in situ keratomileusis," a procedure wherein special lasers are used to reshape an eye's cornea. When athletes undergo LASIK in Durham, NC, they can expect overall improved vision, as well as a reprieve from refractive eye problems such as nearsightedness and farsightedness. As a result, they can now forgo wearing glasses or contacts on the field, which might hamper their performance.
Of course, if you have additional eye conditions like cataracts it's best to consult your ophthalmologist first before getting LASIK. While the procedure can still be performed, your vision might become obstructed in the future as the cataract matures. Fortunately, practices like North Carolina Eye, Ear, Nose and Throat offer both LASIK and cataract surgery to Durham, NC clients.
(Uggla's vision has improved since Lasik surgery, MLB.com, August 21, 2013)