Born to be an ENT - Otolaryngologist - Head & Neck Surgeon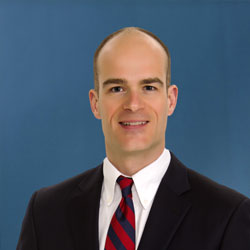 "I was born to be an ENT doctor, " said Kevin G. Hueman, MD FAAOA, North Carolina Eye, Ear, Nose & Throat's new doctor of otolaryngology. "Early in my undergraduate career, I felt a calling to serve others as a physician. Once in medical school, I gravitated towards a field which included a technical aspect where I could work with my hands. During gross anatomy, I found that head & neck anatomy was clearly the most fascinating. Once on clinical rotations, it became obvious that I had to pursue Otolaryngology / Head & Neck Surgery!"
Dr. Hueman is a board certified Otolaryngologist/Head & Neck Surgeon and a fellow of the American Academy of Otolaryngic Allergy. He studied chemistry, life sciences and nuclear engineering at the United States Military Academy at West Point. He graduated as a Distinguished Cadet with a Bachelor of Science. Dr. Hueman then entered Wake Forest University School of Medicine where he was an elected member of the honor council. After graduation, he completed Otolaryngology/Head & Neck Surgery residency at the San Antonio Uniformed Services Health Education Consortium. Dr. Hueman subsequently completed a fellowship with the American Academy of Otolaryngic Allergy
"I really love helping people. It is so interesting and rewarding to help devise an individualized plan for patients to address their ENT/head and neck complaints," said Dr. Hueman.
Dr Hueman joins NCEENT after 14 years of active duty service in the United States Army. Dr. Hueman was assigned to Womack Army Medical Center in Fort Bragg, NC, where he had the privilege of caring for armed service members, retirees and their families. He was promoted to Lieutenant Colonel and served as the Chief of the Division of Otolaryngology/Head & Neck Surgery. Dr. Hueman provides comprehensive care for adults and children. His practice encompasses medical and surgical treatment to patients with a variety of conditions including allergy, nasal congestion, recurrent & chronic sinusitis, recurrent throat infections, snoring, recurrent ear infections, thyroid nodules, and head and neck masses.
Allergy Immunotherapy, tonsillectomy, ear tube replacement, thyroidectomy
"I can offer treatments which range from medical therapy such as allergy immunotherapy to surgical intervention, said Dr. Hueman. "Surgery can range from straightforward tonsillectomy or ear tube placement to complex sinus surgery or thyroidectomy. I also really love the technology and gadgetry that the ENT field employs. We use fiberoptic scopes, microscopes, CT image guidance, plasma generators and balloons--it's so fun to help people with all of these amazing devices!" Dr. Hueman sees patients in our Cary and North Durham offices. To schedule an appointment, call 919-595-2000.