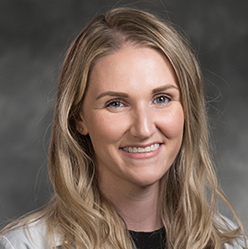 Vanessa McCullough MS/CCC-SLP
Speech Pathology
Location(s): North Durham, South Durham
Vanessa McCullough is an American Speech-Language-Hearing Association (ASHA) certified speech-language pathologist with more than 10-years of clinical experience. She is licensed by the North Carolina Board of Examiners for Speech-Language Pathologists and Audiologists. She obtained her Master of Science in Speech and Hearing Sciences from University of North Carolina at Chapel Hill and her undergraduate degree in Communication Disorders and Sciences from State University of New York Geneseo.
Throughout her career, Ms. McCullough has gained experience working with children and adults with a variety of developmental delays and disorders. She has worked in a variety of settings including private clinics, public schools, preschools, homes, and daycare centers. Ms. McCullough has experience working with children and adults diagnosed with autism, traumatic brain injury, sensory processing disorder, Down syndrome, genetic disorders, attention deficit disorders, fluency disorders, apraxia, and feeding disorders.
Ms. McCullough enjoys working with children and adults of all ages. Her interests include working with individuals with autism, including individuals and families navigating a new autism diagnosis, as well as adolescents and adults focusing on pragmatic language skills. She also enjoys working with individuals with fluency disorders, including stuttering and cluttering. Ms. McCullough's passion lies in empowering children and adults to reach their individual communication goals. She enjoys working collaboratively with families, caregivers, and other professionals to achieve the greatest success for each patient.
Ms. McCullough also has extensive experience in speech and language research and early childhood development. She is a coauthor of a widely and nationally used preschool curriculum, which helps teachers guide children's learning in all developmental areas, especially in speech and language development. She also has coauthored a comprehensive guide to infant and toddler development, demonstrating the importance of early language exposure in the childcare environment. Ms. McCullough has provided trainings across the country to members of the early childhood development community.
Ms. McCullough grew up in upstate New York, but currently lives in Chapel Hill with her husband and twin sons. She enjoys hiking, traveling, baking, reading, and spending time with family and friends.