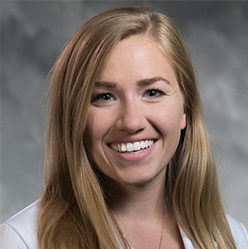 Jennifer Rollinson, AuD,CCC-A
Audiology & Complete Hearing Aid Services
Location(s): Cary, North Durham
Jennifer K. Rollinson, Au.D. received her B.S. in Communication Sciences and Disorder from Springfield College, MA, in 2015 and her doctoral degree from Gallaudet University, DC, in 2019. She completed her residency at Duke University Medical Center.
Dr. Rollinson is licensed by North Carolina Board of Examiners for Speech-language pathology and audiology. She loves to work with patients of all ages and abilities, but primarily specializes in working with the pediatric population providing diagnostic behavioral hearing evaluations, sedated and non-sedated auditory brainstem response testing, hearing aid consultations fittings, as well at auditory processing evaluations.
In her free time, Dr. Rollinson enjoys spending time with her 7-month-old puppy, hiking, and rooting for the New England Patriots!