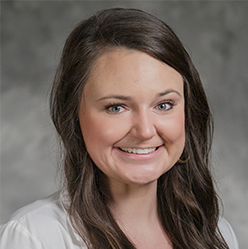 Havan Harris MS/CCC-SLP
Speech Pathology
Location(s): North Durham, South Durham
Havan Harris MS/CCC-SLP is a clinical speech language pathologist. She received a bachelor's degree in Speech and Hearing Sciences in 2019, and a master's degree in Communication Sciences in 2021, both from East Carolina University. She completed a clinical fellowship at Durham VA Medical Center.
Ms. Harris offers SPEAK OUT!® & The LOUD Crowd® individual and group speech therapy programs for individuals with Parkinson's Disease, gender affirming voice therapy services, augmentative and alternative communication (AAC) evaluations and treatment, and adult dysphagia evaluations (modified barium swallow studies) and treatment
Ms. Harris provides gender affirming voice therapy services to ensure individuals' communicative abilities are congruent with their gender identity and expression. She also offers therapy to adults with history of stroke, neurodegenerative diseases (e.g., Parkinson's disease, amyotrophic lateral sclerosis, multiple sclerosis, dementia, and primary progressive aphasia), motor speech disorders, traumatic brain injury, head and neck cancer, organic and functional voice disorders, and irritable larynx syndrome (paradoxical vocal fold movement and chronic cough).
Ms. Harris also has experience assessing and treating children with expressive/receptive language deficits, pragmatic impairments, Autism spectrum disorder, articulation deficits, traumatic brain injury, cleft lip/palate, and apraxia of speech.
Ms. Harris is a native of Roxboro, NC and is thrilled to serve patients across the lifespan in her home community. In her spare time, she enjoys spending time with her family and friends, reading, being outdoors (from hiking to sitting on the beach), and live music.