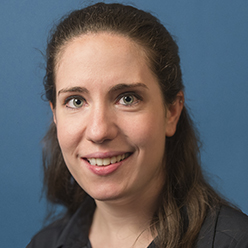 Casey Polcari, AuD, CCC-A
Audiology & Complete Hearing Aid Services
Location(s): Cary, South Durham
Casey Polcari, AuD, CCC-A, grew up on Long Island, NY. She received her B.A. in Communication Sciences and Disorders from Adelphi University, and her doctoral degree from the Long Island Au.D. Consortium, where she attended Adelphi, Hofstra, and St. John's Universities. She completed her clinical training at Ear Nose and Throat Associates of NY.
Dr. Polcari is licensed by the North Carolina Board of Examiners for Speech-Language Pathology and Audiology, as well as board certified by the American Speech-Language and Hearing Association. She welcomes all patients, but has a special interest in diagnostic audiology, including Auditory Brainstem Response (ABR) testing and the evaluation of balance disorders.
In her spare time, Dr. Polcari likes to read, play music, and enjoy the outdoors.